Nikola Radovanovic , Sales manager at JELA JAGODINA
Sales department
http://www.jela.rs
Bilateral Meetings
13.11.2012 Tuesday (10:30 - 13:00)
13.11.2012 Tuesday (14:00 - 17:00)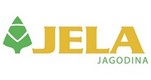 "Jela Jagodina" Ltd. is a family company which was founded in 1991. The company employs 140 people, with average age of 30 years, and it is classed as medium sized company.
"Jela Jagodina" Ltd. currently produces 4 product lines: KIKI–youth rooms, Radda-living rooms, Kalla–bedrooms and Kitchens.
Originally conceptualized production programs, unique selling policies, modern design and pronounced high quality of the products make healthy basis on which "Jela Jagodina" Ltd. built its path and grew into the leader in the particle board furniture production for Balkan region.
Cooperation with world-renowned manufacturers of equipment and materials (Homag, Egger, Hettich, Rehau etc.) as well as introducing new technologies, given us the ability to bring our production capacities and quality to the highest level.
Markets where our products has taken their place are Slovenia, Croatia, Bosnia, Montenegro, Macedonia, Greece, Czech Republic, Slovakia, Austria, Germany, Switzerland, etc.
Our production programs are completed with the Q1 quality certificates issued by the Laboratory of the Faculty of Forestry in Belgrade, the Swiss cert. house SGS-Belgrade, Euroinspekt wood control from Croatia and TÜV. Beside to these certificates of quality, our products have GOST-R standard.
"Jela Jagodina" Ltd. for many years presented its products at international furniture fairs in Belgrade, Cologne-IMM, Moscow, Barntrup-MOW, Skopje, Nitra and Thessaloniki.
Country: Serbia
Organization Type: Supplier
Organization Size: 101-250
Founding Year: 1991
Phone: +38135240860
Email: nikola.radovanovic@jela.rs
City: Jagodina 35000,Kablovska bb Google map
Areas of Activities
Furniture
Chipboard furniture