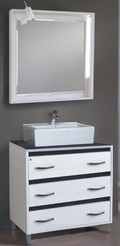 Ljubodrag Despotović , Owner at Bugi enterijeri plus doo
http://www.bugienterijeri.com
Bilateral Meetings
13.11.2012 Tuesday (10:30 - 13:00)
13.11.2012 Tuesday (14:00 - 17:00)

Country: Serbia
Organization Type: Supplier
Organization Size: 1-10
Founding Year: 1999
Phone: +381 31 531 035
Email: info@bugienterijeri.com
City: Užice 31205,Nikolic brothers No.35 Google map
Areas of Activities
Furniture
Timber and semi-finished wood products
Engineering and interior furnishing

Offer & Request
Manufacture and sale of bathroom furniture
We are interested in the business cooperation and sell our product range through direct sales or sales through business partners.
Type of Cooperation
Distribution
Engineering and interior furnishing

Offer
Bathroom furniture
Bugi interios is a firm,which is darwing up the plans and producing bathroom and piece furniture, first-class quality.
Produce programme of Bugi interios includes producing of bathrooms furniture.Bathrooms furniture is made from promoted particle board and MDF, painted by poliureten color. The primarz color is white RAL 916.
Beside the primary color we offer you pantone by the tone card RAL.
Type of Cooperation
Engineering and interior furnishing
Distribution